Christmas 2001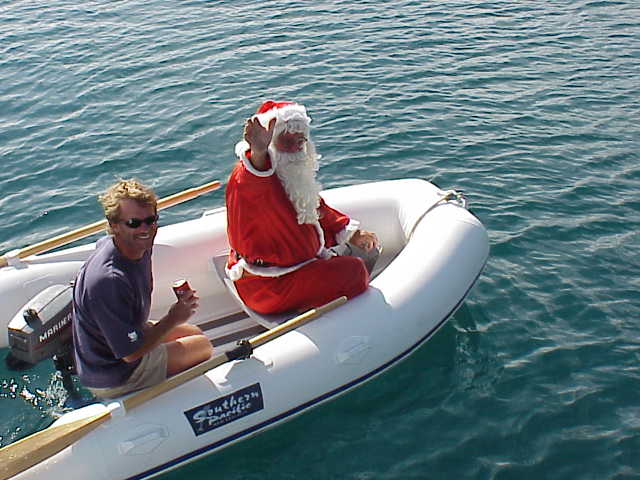 Great Barrier Island. What a wonderful Place. Possibly the best place I have ever been. From the lobster everywhere to the Green lipped mussels to the many kinds of fish all the way to Santa Claus showing up Christmas morning in an inflatable dinghy. What a place!!!
At Smokehouse bay, there is a smokehouse pretty much maintained by the people that use it. On the back side of the thing is a room with an old claw foot bathtub set down in a rickety floor. there is a boiler in the smoker so while you smoke your fish or whatever you are cooking you are heating your evening bath. Wash tubs with old (but maintained in good working order) wringers out front by a fresh water stream.
While we were there some local blokes were smoking a couple of "Kingfish". The finishing process is to almost smother the fire with "Manuka" branches . The leaves produce a smoke that rips your eyes and lungs but does something magical to a kingfish. It didn't hurt the mussels , snapper or the chicken bon the racks either...
If there is a heaven on earth for a seafood lover, Great Barrier Island is it!
| | | | | |
| --- | --- | --- | --- | --- |
| Celeste Christmas | Drew Christmas | Hunraken Santa | Drew Crayfish | Monique & Casey |
| Drew Phone | Kick-Ass at Sunset | Grace Fishing | Kids Dingy | Smoke House Parking |